Is Tinder full of swindlers? 1 in 4 dating app users say matches have solicited them for money
Published: March 28, 2022
The recent Netflix documentary "The Tinder Swindler," tells the story of an Israeli man who conned several women he met on dating apps out of an estimated $10 mill ion by posing as the heir to a diamond fortune.
While this is one of the most high-profile online dating scams, a new survey by BestApp.com shows that it's hardly an isolated incident. In March 2022, BestApp.com surveyed 1,250 dating app users ages 18 and older about their experiences with the services, including whether they have ever been involved in a scam, either as the perpetrator or the victim.
Key Findings:
26% of singles say people they've met on dating apps have asked them for money
36% of dating app users have been catfished
One-third of dating app users 'dislike' or 'hate' dating apps; dishonesty among users is what people dislike most
Despite dislike of dating apps, 35% of unsatisfied users are unlikely to try meeting potential partners in offline settings
26% of singles have been asked for money by dating app matches
According to our survey respondents, dating apps are rife with users who are looking for more than love.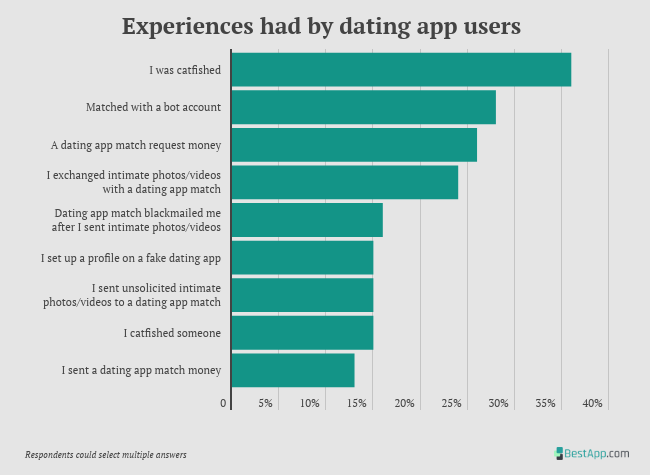 Twenty-six percent of singles have had a dating app match ask them for money or other types of financial assistance, while 13% of dating app users have sent money or financial assistance to people they met online.
Men and women report being targeted at nearly equal rates. Twenty-seven percent of men and twenty-five percent of women have had potential partners hit them up for money. They are also nearly equally as likely to send money, with 14% of women and 12% of men saying they fulfilled requests for financial assistance from dating app matches.
Users twenty-five and older are more likely to receive monetary requests from dating app matches than those 18-24, by a rate of 28% to 21%.
Singles ages 45-54 are the group most likely to send money, with 19% of dating app users in this group admitting they sent money to someone they met online. This is followed by 16% of users 55 and older, 14% of users 18-24, and 11% of users 25-44.
Nearly 4 in 10 dating app users have been catfished
Another common scam dating app users face is catfishing, in which a user creates a fake online persona to lure someone into a relationship.
Thirty-six percent of respondents report being catfished at least once. Meanwhile, 15% of respondents admit that they have been the one doing the catfishing.
Younger dating app users are more likely than older individuals to be catfishing victims. Thirty-nine percent of singles ages 18-24 have been catfished, compared to 37% of users 35-44, 36% of users 25-34, 31% of users 54-54, and 30% of users 55 and older.
However, 17% of users in both the 18-24 and 55 and up groups admit to catfishing other people. That's compared to 15% of users 35-44, 14% of users 25-34, and 13% of users 45-54.
Men are slightly more likely than women to be catfished, by a rate of 38% to 33%. Sixteen percent of men and 15% of women admit to catfishing other people on dating apps.
Soliciting money and catfishing aren't the only dating app scams users need to watch out for. Twenty-eight percent of singles report matching with a bot account on a dating app, while 16% were blackmailed after they sent a dating app match intimate photos for videos of themselves. Sometimes the apps themselves are scams – 15% of users report creating a profile on a dating app that turned out to be fake.
36% of singles dislike dating apps because 'people are dishonest'
Given the rampant deception happening on dating apps, it's not surprising that, when asked what they dislike about dating apps, 36% of respondents selected 'people on dating apps are dishonest.'
"It seems like about ninety percent of the profiles on dating apps are fake or scammers," says Davida Rappaport, a dating app user from Santa Monica, CA. "Of the other ten percent, only about one or two percent are legitimate people looking for a real relationship. So many people post out-dated photos, don't bother to fill out their profiles, or don't send proper messages that indicate they are interested in anything other than wasting people's time or scamming them."
Thirty-six percent of respondents also dislike dating apps because 'it's difficult to make a genuine connection,' which ties in with the issue of trust when meeting people online.
The challenge of making a connection based on limited information and communication is a main drawback of dating apps for Louise Rumball of London, England.
"For me, chemistry is a key part of life and attraction, and chemistry is so hard to determine through the chat function on dating apps," Rumball says. "I know friends who have had great success with dating apps, but for me, it feels like another set of notifications to add to an already busy iPhone."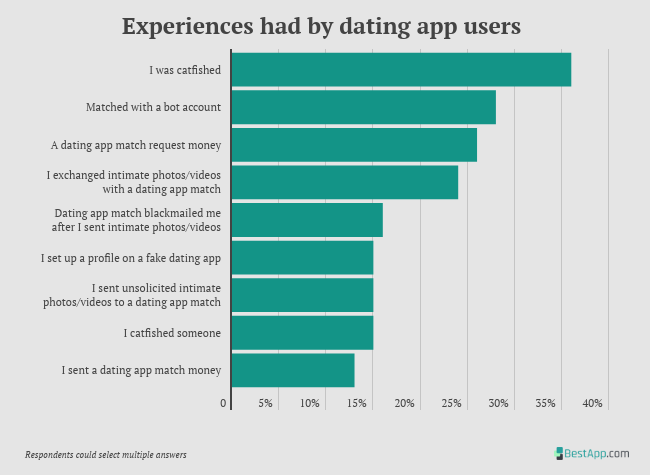 Other reasons why dating app users dislike the platforms are more related to their inherent design. Thirty-four percent of users dislike dating apps because they feel other users only judge potential matches based on their appearance or photos, while 25% say having access to unlimited options for matches is overwhelming.
Perceptions about dating app users may also be part of the problem. Thirty percent of respondents don't like dating apps because the majority of users are just looking for casual hook-ups or one-night stands.
However, when asked what they are looking for on dating apps, only 15% of respondents say they are exclusively looking for hook-ups or one-night stands. Twenty-six percent of respondents are open to long-term monogamous relationships and casual dating as purely physical encounters.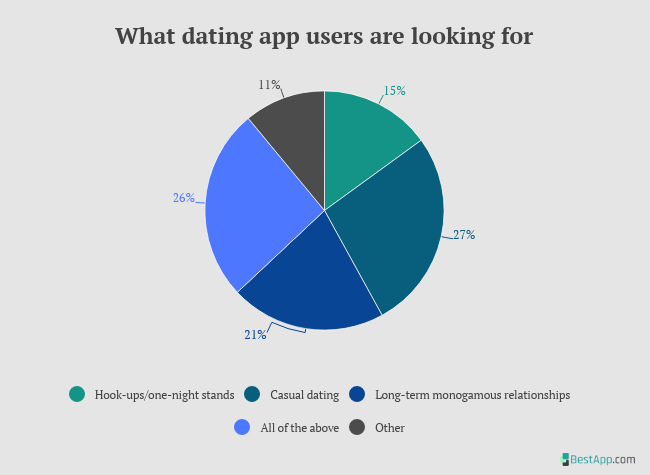 1/3 of dating app users have a negative opinion of apps
Roughly one-third of the people who use dating apps have a negative opinion of them, with 18% saying they 'dislike' dating apps, and 14% saying they 'hate' them.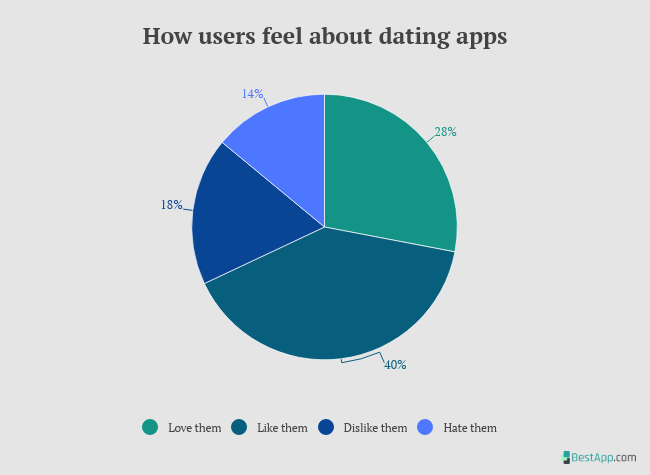 Despite this disdain, 38% of individuals who dislike or hate dating apps continue to use them because they 'don't have any other avenues or opportunities for meeting potential partners.'
A lack of opportunities to interact with other singles is what keeps Brandon Li of San Francisco, CA returning to dating apps.
"It's hard to meet people out and about," Li says. "Once you finish university and start working, the only people you meet are those within your company and those with whom you share any activities you attend in your free time. The whole 'bumping into someone on the street and finding true love' isn't really a reality, or at least it hasn't been for me yet!"
The reliance on dating apps to meet other singles creates a cycle that keeps users coming back, even if they don't like the platforms, according to Andrew Fraser, a dating app user from Southampton, England.
"It feels like the only reason lots of people use dating apps, and I include myself in this, is because everyone else is," Fraser says. "It's where most people are and where we seem to naturally gravitate to try and find relationships, even if it's not working particularly well. It feels like being trapped, in that you know you should leave or stop but there's this fear that you'll never find someone other than on a dating app. So you stay and keep swiping, feeling more miserable and getting nowhere."
Thirty-six percent say 'boredom' keeps them coming back to dating apps, while 32% remain 'optimistic that [they] will find a good match on a dating app.'
Kevin Nguyen, a dating app user from Austin, Texas, is one of the optimistic dating app users.
"I like dating apps because they provide another way to start discussions with potential partners that I otherwise would never have met in real life," Nguyen says. "Dating apps also fit into my schedule as you can use them between appointments and other day-to-day activities. This is the number one reason why I believe people still use them – they are very convenient."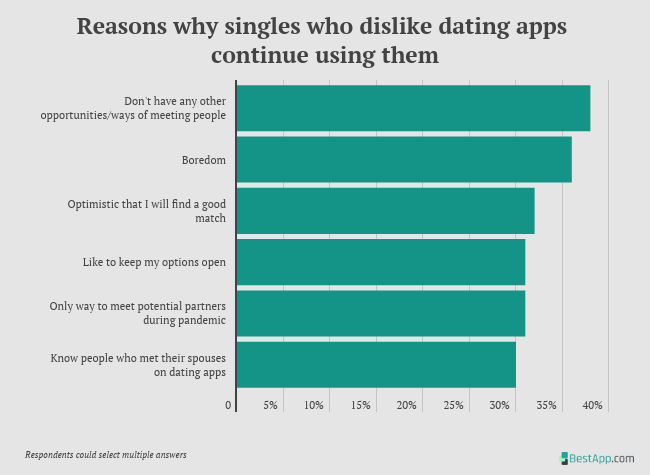 In a case of chicken or the egg, an individual's attitude towards dating apps and their level of success appears to be connected.
Sixty percent of respondents who say they dislike or hate dating apps report that the matches they make online 'rarely' or 'never' lead to first dates.
By comparison, among the 68% of respondents who like or love dating apps, 21% say their matches 'always' lead to first dates, while 39% report that they 'frequently' have first dates result from matching with people online.
Singles who dislike or hate dating apps are three times as likely as those who like or love them to say that they are 'not at all helpful' in their quest to find a relationship, by a rate of 39% to 12%.
Despite dislike of dating apps, 35% of unsatisfied users won't try to meet partners IRL
For the last two pandemic-dominated years, dating apps were largely the only avenue available to singles looking for love.
With restrictions lifting, meeting and mingling with new people in in-person settings, like bars, live shows, parties, and more, is once again becoming an option.
However, 35% of singles who dislike dating apps say they are 'not at all likely' to try to meet potential partners in in-person settings as the pandemic recedes. This is double the number of singles with favorable opinions of dating apps, only 17% of whom say they don't plan on making an attempt to meet a romantic partner offline.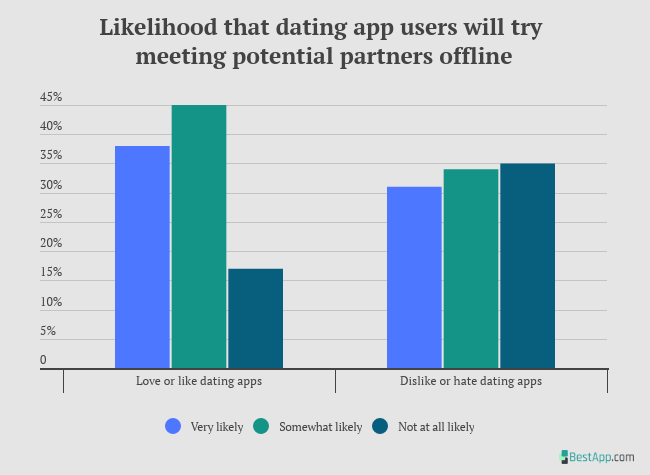 Methodology
All data found within this report derives from a survey commissioned by BestApp.com and conducted online by survey platform Pollfish. In total, 1,250 Americans ages 18 and older who are single, divorced or separated and currently use dating apps were surveyed. Appropriate respondents were found via Pollfish's demographic filters and a screening question. This survey was conducted from March 18-22, 2022. All respondents were asked to answer all questions truthfully and to the best of their abilities. For full survey data, please email Content Marketing Specialist Kristen Scatton at [email protected].