The Best Tools for Remote Workers of 2022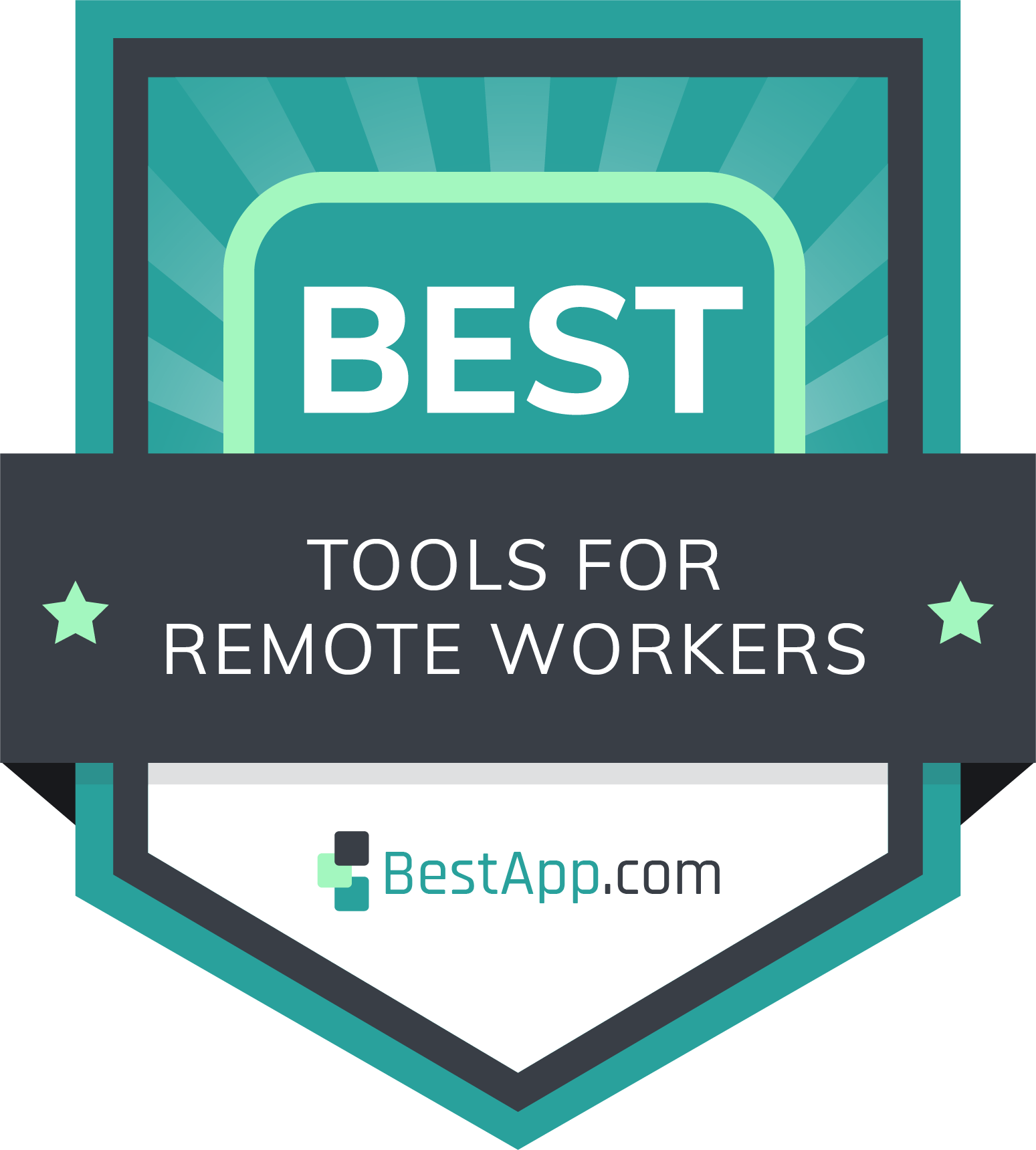 Remote work depends on constant communication between team members to be successful, which is why Slack is our top pick for the best overall app for working from home. Slack's flexible and convenient massaging solutions make it easy for remote teams to communicate and collaborate. But if Slack isn't right for you, or you're looking for other apps to add to your list of productivity tools, we researched and reviewed nine other great apps for remote workers.
Top 10 Tools for Remote Workers to Try
How We Chose the Best Remote Working Apps
When comparing remote working apps, we looked at a few key features such as instant messaging, video conferencing, document sharing, notifications, and cloud storage capabilities. These features are essential for remote collaboration and communication, and with few exceptions, the apps on this list offer all of these capabilities.
Choose the remote working app that's right for you
Everyone's needs are different, and remote workers are often responsible for establishing their own workflows and procedures. When looking for apps to improve your productivity, it's important to consider what apps your team uses, how big your team is, and what your responsibilities are. If you struggle with time management, Toggl Track may be a great option for you. If your team uses Google Docs for document creation and sharing, Google Drive is an essential tool to add to your arsenal.
Keep it simple
Adding too many apps to your workflow can negatively impact your productivity as you become reliant on too many tools to successfully manage your tasks. Only choose the apps that you believe are essential.
Our Work from Home App Reviews
Slack — Top Pick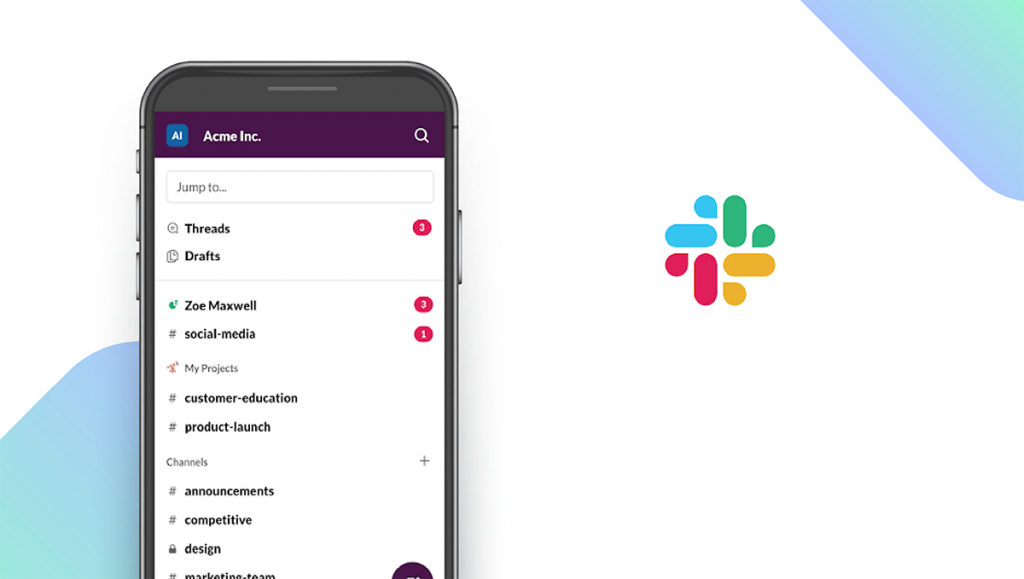 Slack is our top pick due to its wide range of features that enable effective communication among remote teams. It is by far the most fleshed-out text-based communication app for remote teams and includes standout features like the ability to create public and private groups, send direct messages to groups or individuals, set work statuses, and share files. Slack also offers the ability to conduct video calls, making it a great all-around communication app if you don't want to clutter your workflow with apps dedicated to video conferencing. Slack's free plan is perfect for freelancers and small teams as it offers access to the app's key features and integrations. Larger teams can subscribe to one of Slack's affordable business plans to gain access to larger group chats, more app integrations, and other features.
Notable features:
Free version available
Subscription plans: Standard: $6.67/month; Plus: $12.50/month
Support available: Help Center, Tickets
Slack Pros & Cons
What we like
What we don't like
Advanced group chat features
Limited support options
Supports video calls
Trello — Best Free Version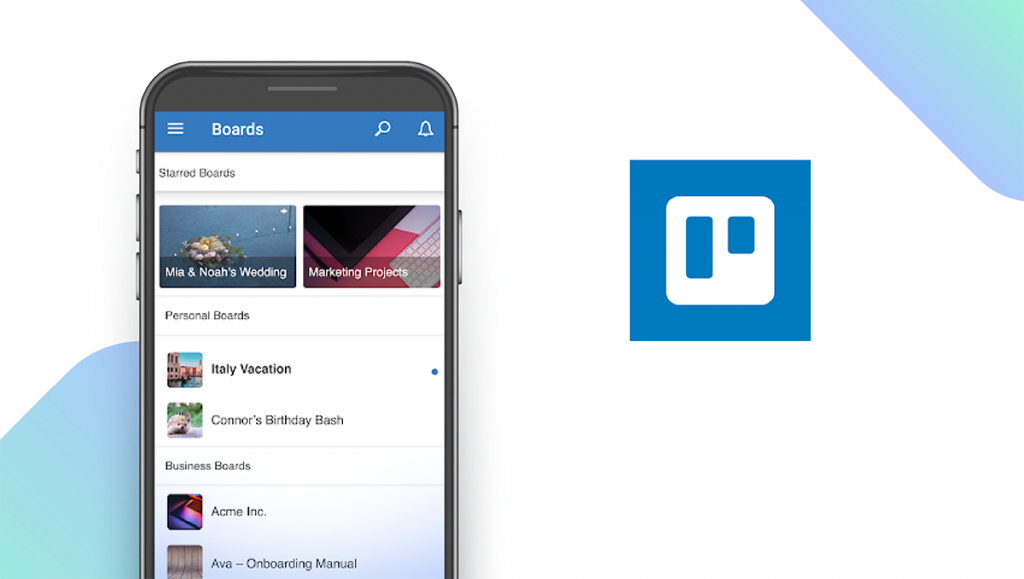 Trello is a project management tool that facilitates efficient collaboration and productive workflows for remote teams. It uses a card-based system to create, track, and manage projects and tasks. Projects are assigned to team members as needed, and users can set statuses such as "in progress," "done," and "ready to start." The app offers many unique features to make project management easier, including due date tracking, attachment sharing, to-do lists, boards, and activity logging. The free version is generous, offering unlimited cards, unlimited members, up to 10 boards, mobile app access, and unlimited storage, making it an incredible solution for small teams that want to keep expenses low.
Notable features:
Free version available
Subscription plans: Business Class: $10/user/month
Support available: Help Center, Ask the Community
Trello Pros & Cons
What we like
What we don't like
Free plan offers generous features
Doesn't support recurring tasks
Card-based project management system
No time tracking
Integrates with several other productivity apps
Zoom — Best for Video Conferencing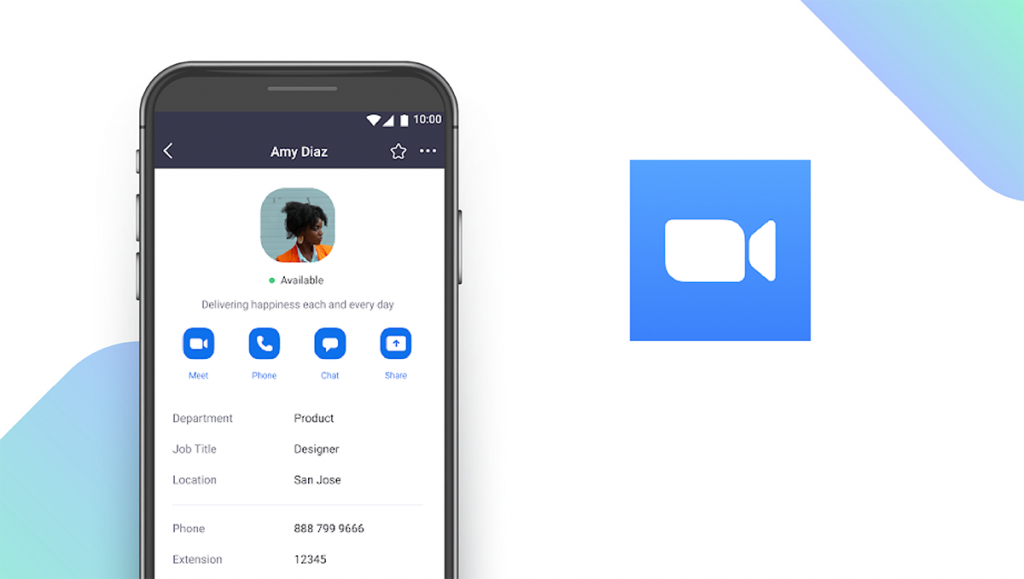 Zoom has become the go-to video conferencing platform for large enterprises and small businesses due to its ease of use, large group chat support, and other great features. Depending on your subscription plan, Zoom meetings can host up to 500 video call members, and with add-ons, this number can increase to 1,000 participants, making Zoom the clear frontrunner for large remote teams. Unlike other video conferencing apps, Zoom also supports webinars, and users can take advantage of other great features for collaboration, including messaging, file sharing, and voice calls. The free version is somewhat limited as it restricts group meetings to 40 minutes, but upgrading is very affordable and grants access to the platform's most powerful features.
Notable features:
Free version available
Subscription plans: Pro: $14.99/month/license; Business: $19.99/month/license
Support available: Help Center, Social Media, Web Case, Chatbot, and Phone
Zoom Pros & Cons
What we like
What we don't like
Supports up to 1,000 meeting participants
Free version is limited
Supports messaging and voice calls
Supports cloud recording for video calls
Asana — Best for Project Management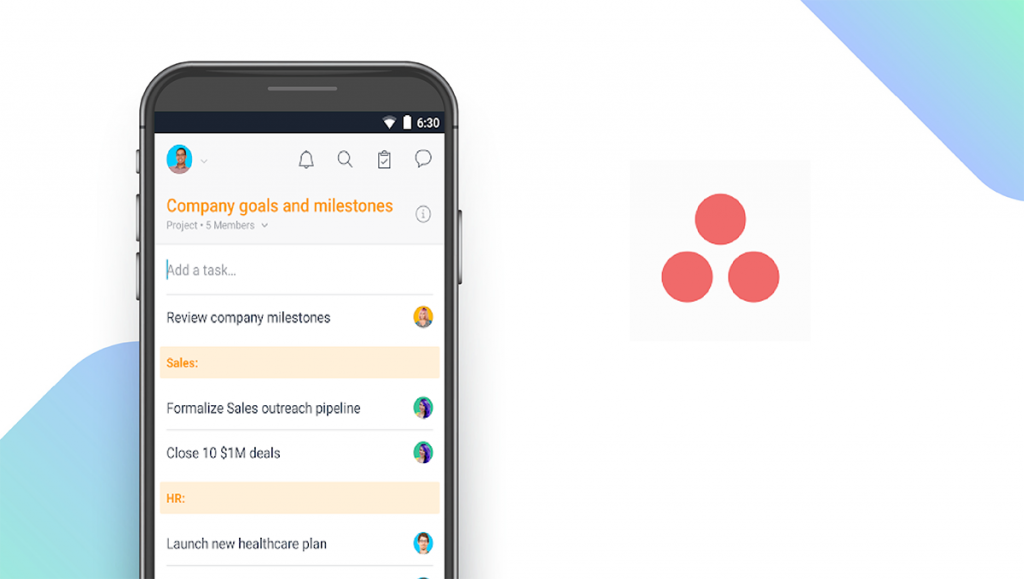 Asana is a Kanban-style project management platform. Users can manage, assign, and track projects. As progress is achieved, users can move tasks across columns until they are complete. You can add attachments, comments, discussions, due dates, and more to each project. Unlike Trello and other project management apps, Asana offers multiple views, including timelines, to create project plans, and you can keep track of deadlines using the built-in calendar. Asana also offers automation capabilities for routine tasks to cut down on busy work. The free version offers unlimited tasks, time tracking integrations, and unlimited activity logs. Users can upgrade to access powerful features, like timelines, portfolios, forms, unlimited guests, and milestones.
Notable features:
Free version available
Subscription plans: Premium: $10.99/user/month; Business: $24.99/user/month
Support available: Help Center, Guides, Forum
Asana Pros & Cons
What we like
What we don't like
Free version offers generous features
More expensive than alternatives
Time tracking integrations
Unlimited file storage
Dropbox — Best Cloud Storage Platform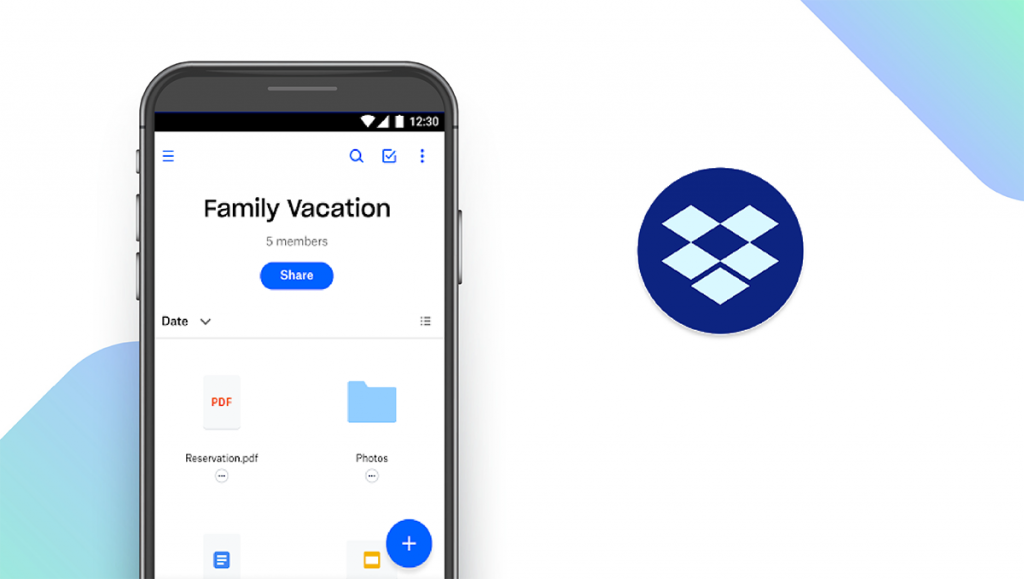 For cloud storage and file sharing, Dropbox is a great option for remote workers. Dropbox supports larger files (up to 2TB) than alternatives like OneDrive, which is limited to 250GB. Dropbox syncs across devices, so users can share, edit, review, and comment on documents from any device. It supports metadata searches, branded file transfers, and integrates with a wide range of tools, including Microsoft 365, Adobe programs, and others. Depending on your subscription, you can access unlimited file storage, which is a great option for larger teams. For security, Dropbox also offers file encryption, real-time alerts, file recovery, and version history.
Notable features:
Free version available
Subscription plans: Professional: $16.58/month; Standard: $12.50/month; Advanced: $20/month
Support available: Help Center, Live Chat, Email & Phone Support, Forum
Dropbox Pros & Cons
What we like
What we don't like
Large file support
Free version only offers 2GB of storage
Integration with other productivity tools
Great security features
Google Drive — Best for Collaboration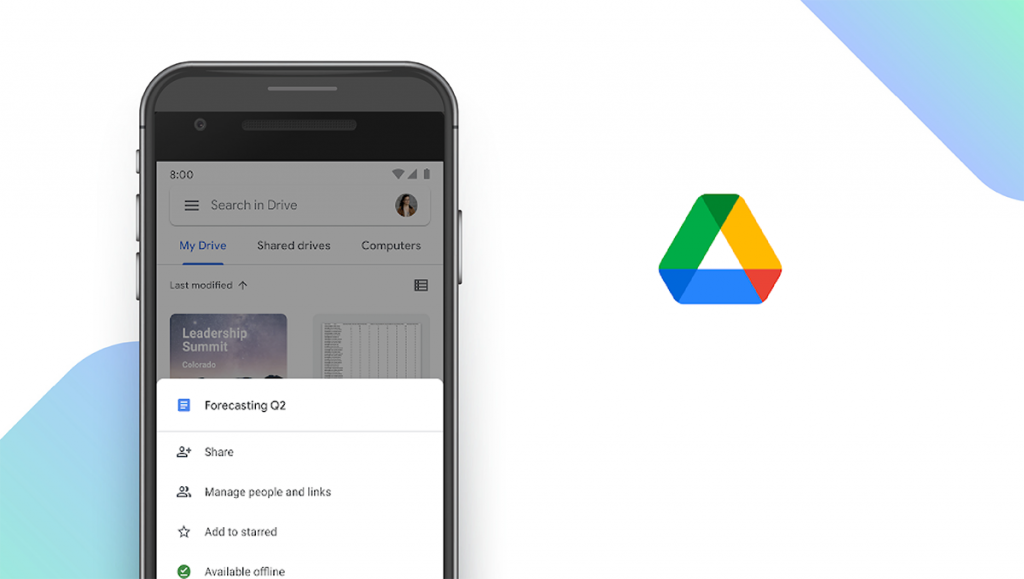 Google Drive is a file storage and sharing platform that integrates seamlessly with other Google products to facilitate efficient collaboration between remote workers. If you and your team use Google Docs, Sheets, and other Google apps for day-to-day tasks, Google Drive is the ideal file storage platform for you. Compared to other file storage platforms, Google Drive's free version is generous, offering 15GB of free storage space. Drive syncs across devices, making it easy to share, edit, and review files from any device, and Android users can easily snap photos of shared documents to save as PDFs on their mobile devices. Google Drive supports two-factor authentication (2FA) and encrypts all files.
Notable features:
Free version available
Subscription plans: 100 GB: $1.99/month; 200 GB: $2.99/month; 2 TB: $9.9/month; 10 TB: $49.99/month; 30 TB: $149.99/month
Support available: Help Center, Community Help/Forum, Tickets
Google Drive Pros & Cons
What we like
What we don't like
Integrates with other Google products
No password protection for shared folders
15GB of free storage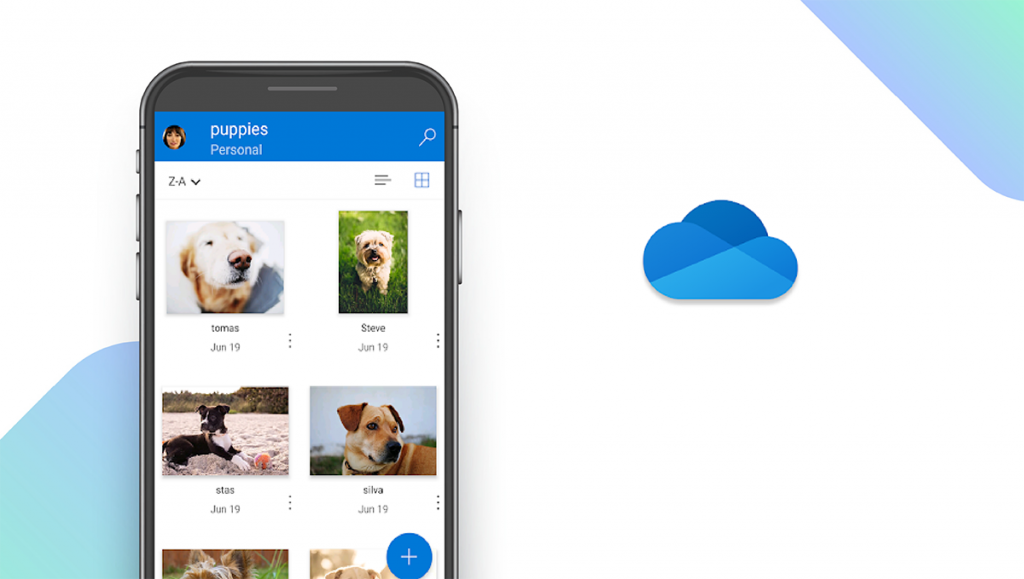 Microsoft OneDrive is the ideal file storage and sharing solution for remote workers and teams that use Microsoft 365 for productivity. Unlike Google Drive and Google's suite of productivity apps that can only be accessed online, OneDrive and Microsoft 365 accommodate offline workflows by offering downloadable apps on Windows and Mac. The free version only offers 5GB of storage, which pales in comparison to Google's 15GB of free storage, but prices for additional storage are similar, starting at $1.99 for 100GB. If you are already a Microsoft 365 subscriber, OneDrive storage is included alongside access to other productivity apps like Word.
Notable features:
Free version available
Subscription plans: OneDrive for Business (Plan 1): $5/month; OneDrive for Business (Plan 2): $10/month; Business Basic: $2.50/month); Business Standard: $10/month
Support available: Live Support, Phone, Help & Learning, Community Forum, Tickets
Microsoft OneDrive Pros & Cons
What we like
What we don't like
Integration with Microsoft 365 apps
Limited free storage
Syncs across devices
Included in Microsoft 365 subscriptions
Skype — Best for Small Teams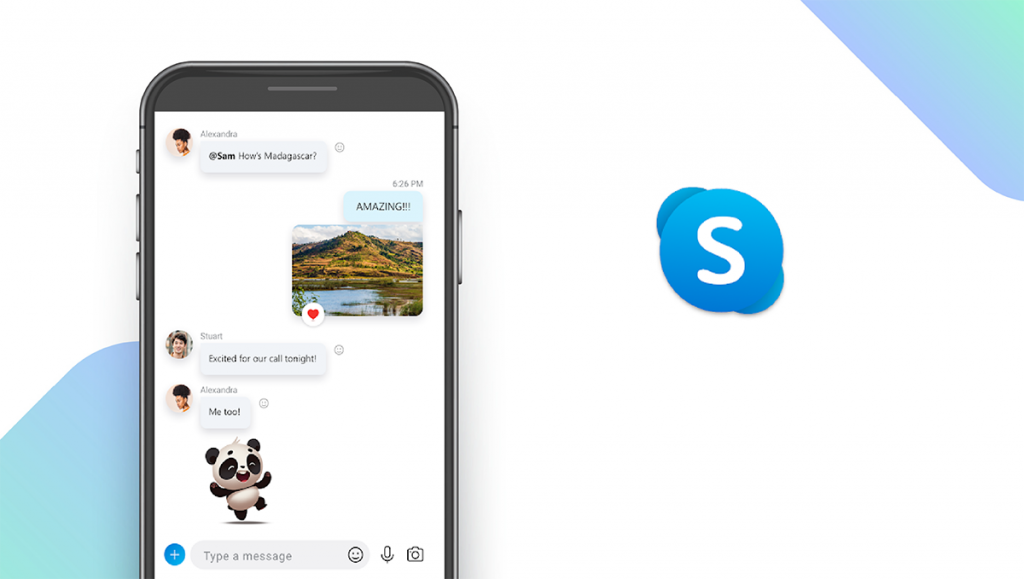 Skype is a full-featured communications app that supports group messaging, video calls, and voice calls. Video calls support up to 50 users, making it less ideal than Zoom for large enterprises but perfect for smaller remote teams. Skype also supports file sharing, screen sharing, caller ID, and voicemail. The best part about Skype is that Skype-to-Skype voice and video calls are always free, and for a small fee, Skype users can also call landlines. The 'Meet Now' feature lets you create and share meeting links, which users without a Skype account can use to join calls. Privacy-concerned users can utilize Skype's private messaging feature which offers end-to-end encryption for security. Skype also offers real-time translations for voice and video calls and instant messaging.
Notable features:
Free version available
Subscription plans: $2.99/month
Support available: Help Center. Live Chat, Contact Form
Skype Pros & Cons
What we like
What we don't like
Free video and voice calls
Video calls only support up to 50 users
Private messaging
Supports screen sharing
Toggl Track — Best for Time Tracking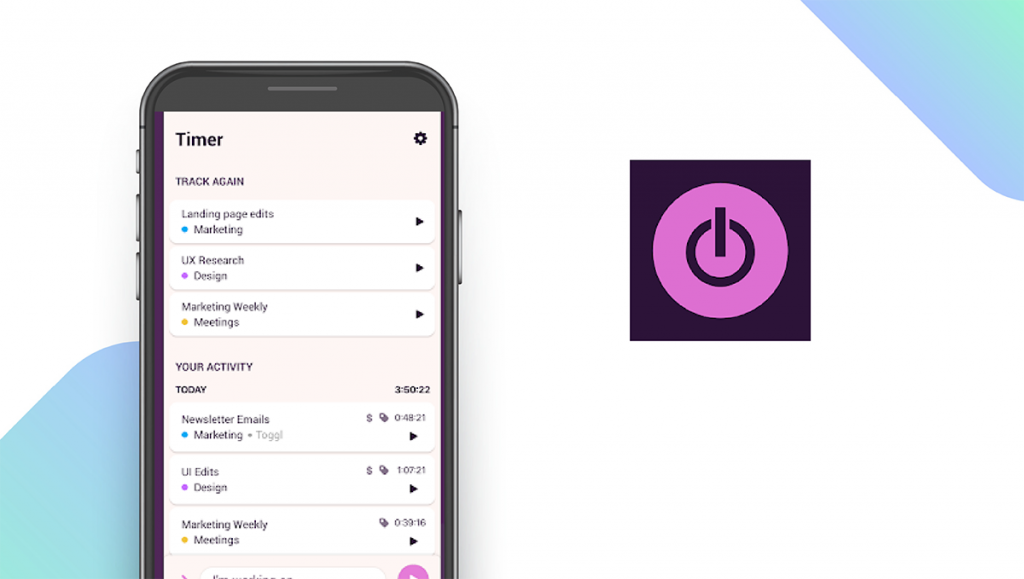 Toggl Track is an industry-leading time tracking platform for individuals, small businesses, and large enterprises with remote teams. As the only time tracking app on this list, it is an essential tool for any remote worker that struggles with managing their day-to-day tasks. Features include time tracking, automated reports that provide insights into your productivity, and revenue tracking. For freelancers, Toggl Track tracks your time spent working alongside your earnings to help you see how much you're making per hour and determine whether or not you need to adjust your rates. The free version is suitable for individuals, while teams can upgrade to either the Starter or Premium plan to unlock powerful collaboration-focused features like project templates and time audits.
Notable features:
Free version available
Subscription plans: Starter: $10/user/month; Premium: $20/user/month; Enterprise: Custom Pricing
Support available: Email, Knowledge Base, FAQs
Toggl Track Pros & Cons
What we like
What we don't like
Simple time tracking
Costly subscriptions for limited features
Revenue tracking
Automated reports
Todoist — Best To-Do List App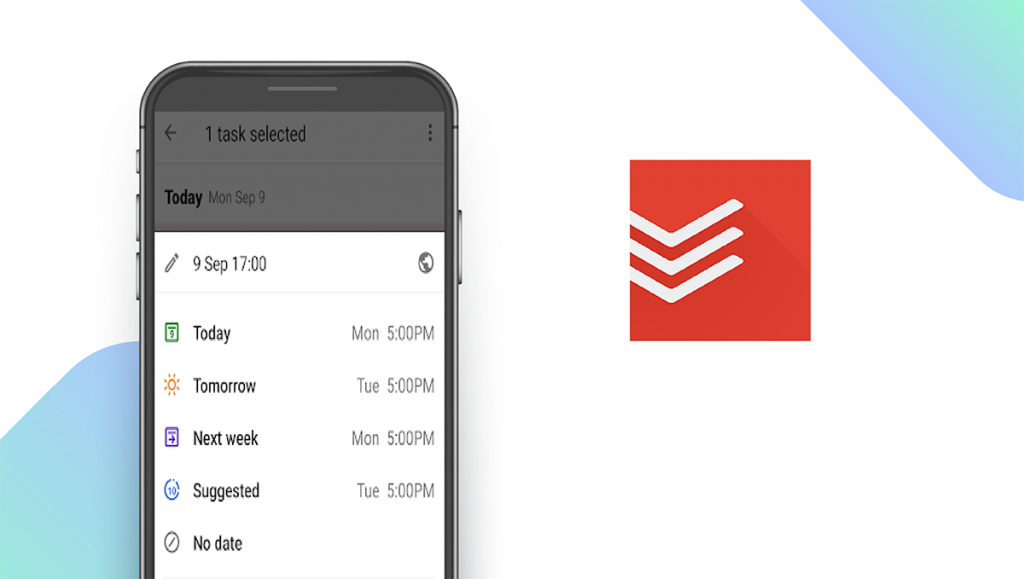 Todoist is a high-quality to-do list app designed to help individuals organize their daily tasks. The app is easy to use. Users add tasks to their lists, set due dates, track progress, and mark them complete when finished. While apps like Asana and Trello are ideal for large teams, Todoist is a great project management tool for remote freelancers that need to organize their workflows. You can set recurring due dates, add subtasks, set priority levels, and delegate tasks to others. While the app is best for individuals, Todoist offers subscription plans for teams that support more users, larger file uploads, and more active projects.
Notable features:
Free version available
Subscription plans: Pro: $4/user/month or $36/user/year; Business: $6/user/month or $60/user/year
Support available: Help Center, Live Chat
Todoist Pros & Cons
What we like
What we don't like
Integrates with popular productivity tools
Free plan is limited
Advanced task management features
Work from Home Apps: Features Summary Table
Work from Home Apps Comparison Table
App
Subscription Fees
Features
Slack — Top Pick
Standard: $6.67/month
Plus: $12.50/month

✓

Instant Messaging


✓

Video Conferencing


✓

Online Document Sharing


✓

Notifications


✓

Cloud Storage
Trello — Best Free Version
Gold: $5/month
Business Class: $10/month

✓

Instant Messaging


X

Video Conferencing


✓

Online Document Sharing


✓

Notifications


✓

Cloud Storage
Zoom — Best for Video Conferencing
Basic: Free Pro: $14.99/month/license Business: $19.99/month/license

✓

Instant Messaging


✓

Video Conferencing


✓

Online Document Sharing


✓

Notifications


✓

Cloud Storage
Asana — Best for Project Management
Premium: $10.99/month
Business: $24.99/month

✓

Instant Messaging


X

Video Conferencing


✓

Online Document Sharing


✓

Notifications


✓

Cloud Storage
Dropbox — Best Cloud Storage Platform
Professional: $16.58/month
Standard: $12.50/month
Advanced: $20/month

✓

Instant Messaging


X

Video Conferencing


✓

Online Document Sharing


✓

Notifications


✓

Cloud Storage
Google Drive — Best for Collaboration
100 GB: $1.99/month
200 GB: $2.99/month
2 TB: $9.9/month
10 TB: $49.99/month
30 TB: $149.99/month

✓

Instant Messaging


X

Video Conferencing


✓

Online Document Sharing


✓

Notifications


✓

Cloud Storage
Microsoft OneDrive — Best for Microsoft 365 Users
OneDrive for Business (Plan 1): $5/month
OneDrive for Business (Plan 2): $10/month
Business Basic: $2.50/month
Business Standard: $10/month

✓

Instant Messaging


X

Video Conferencing


✓

Online Document Sharing


✓

Notifications


✓

Cloud Storage
Skype — Best for Small Teams
$2.99/month

✓

Instant Messaging


✓

Video Conferencing


✓

Online Document Sharing


✓

Notifications


✓

Cloud Storage
Toggl Track — Best for Time Tracking
Starter: $10/month
Premium: $20/month
Enterprise: Custom Pricing

✓

Instant Messaging


X

Video Conferencing


X

Online Document Sharing


✓

Notifications


X

Cloud Storage
Todoist — Best To-Do List App
Premium: $4/month or $36/annual
Business: $6/month or $60/annual

✓

Instant Messaging


X

Video Conferencing


✓

Online Document Sharing


✓

Notifications


X

Cloud Storage