The Best Cocktail Apps of 2023
Written by: BestApp.com App Testing Team - Updated: Nov 05, 2021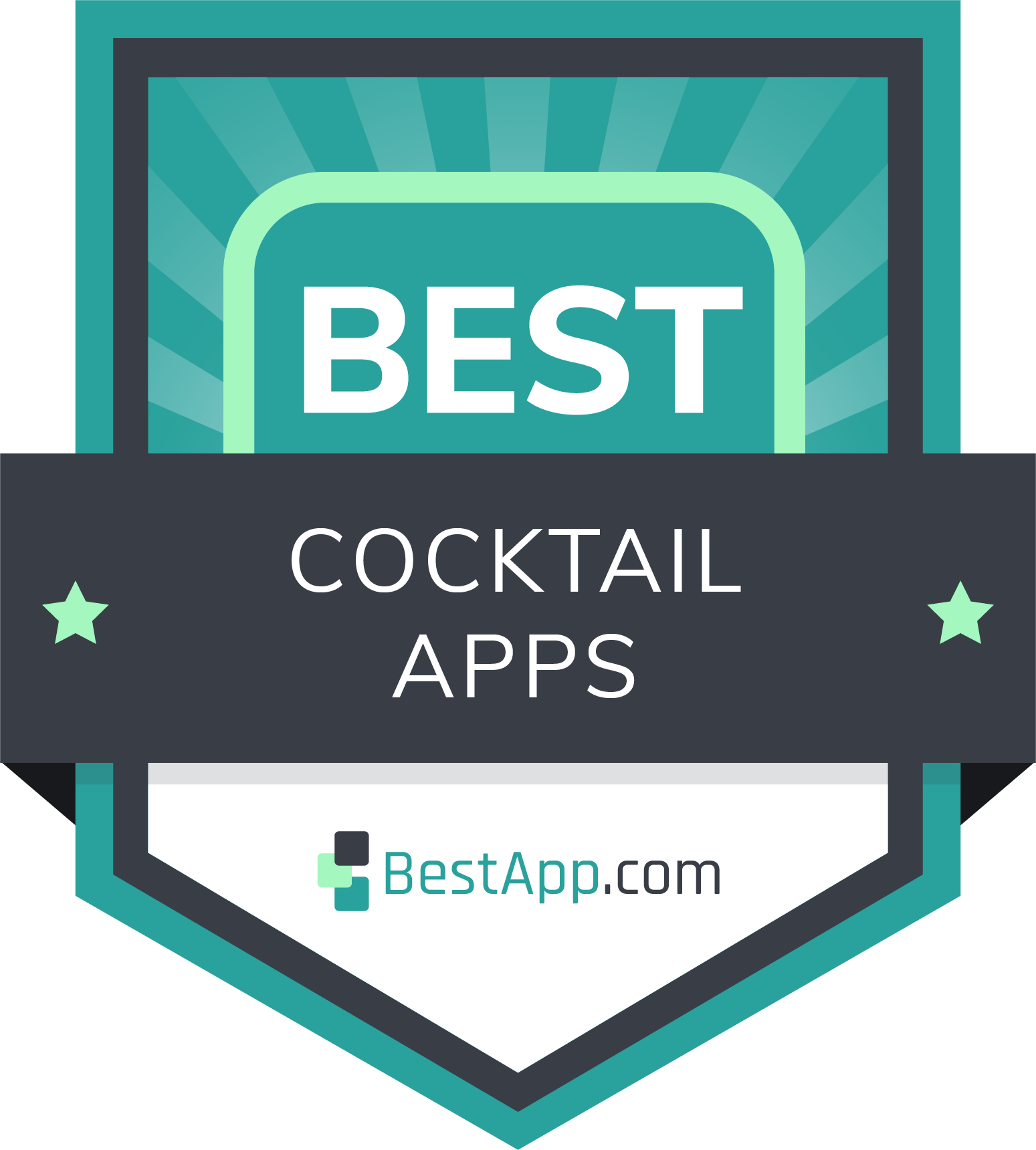 A lot goes into making a good mixed drink, and our pick for the best cocktail app is Cocktail Flow for its large recipe collection and excellent features. But if Cocktail Flow isn't right for you, we've included nine other cocktail apps that you can try out instead.
Top 10 Cocktail Apps to Try
How We Chose the Best Cocktail Apps
We looked for cocktail apps that offer key features like a recipe collection and the ability to filter ingredients or create custom recipes. But since the best cocktail app depends on the occasion, you may want to shop around before choosing the right one for you
Choose the cocktail app that's right for you
Most of the apps on our list are free, but some of them offer premium subscription plans to unlock special features. A few apps stand out for the number of recipes they provide, while others have a smaller collection but have classier art or more detailed directions. The best app for you may depend on whether you're new to cocktails, or whether you already have some experience mixing drinks and want to expand your repertoire.
Use the right equipment
Before you head to the kitchen, make sure you have the right tools for the job. Some recipes call for traditional bartending equipment such as a cocktail shaker or a strainer. You can always make do with what you have on hand, but you'll have better luck if you use the right tools for measuring and mixing ingredients. Remember to choose either the metric or imperial system if your app gives you the option.
Our Cocktail App Reviews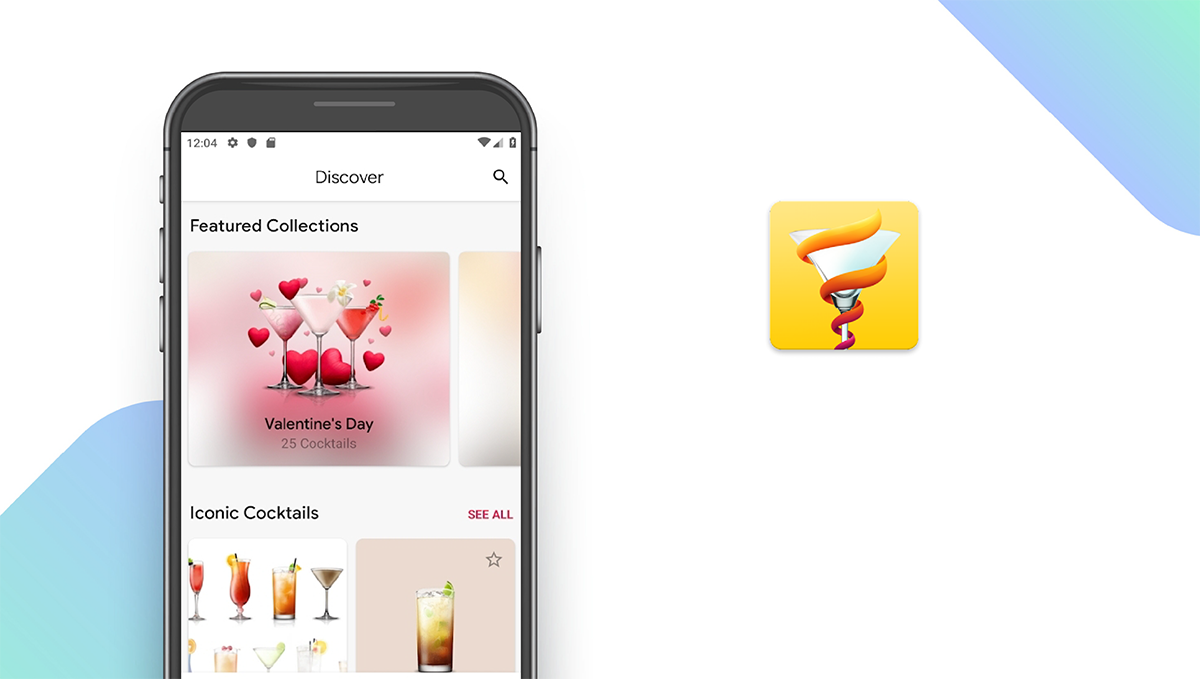 Download: Android ★★★★★★★★★★ | iOS ★★★★★★★★★★
Cocktail Flow is our top pick because it allows you to browse by dozens of categories, including cocktail type and strength, cocktail color, and base spirit. There's even a non-alcoholic smoothie category for friends who don't drink, or for times of day when liquor isn't what you're looking for. You can save your favorite cocktails to come back to later, or search by ingredient to make a drink with what you have on hand. You'll have to subscribe to the premium version if you want access to all of the recipes, but the free version still offers some useful features.
Notable features:
Premium: $4.99/month
Support available: Email
Cocktail Flow Pros & Cons
What we like
What we don't like
Filter by base spirit
Some drinks behind paywall
Non-alcoholic options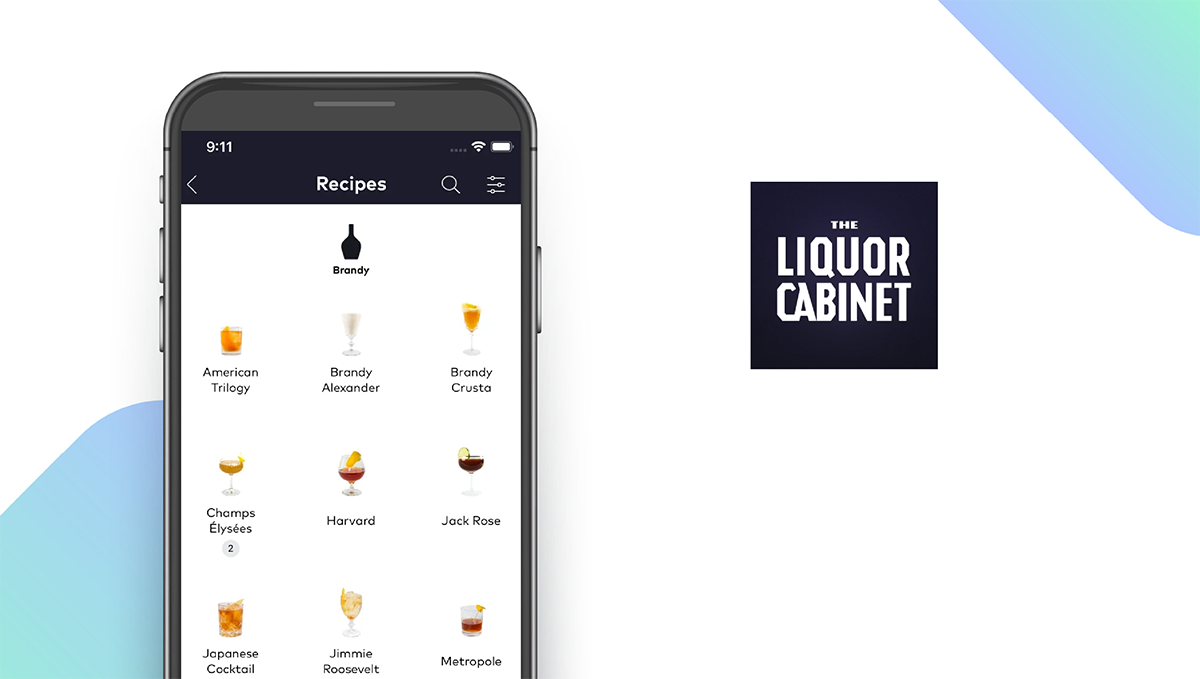 Download: iOS ★★★★★★★★★★
The Liquor Cabinet is the best free cocktail app on our list, with a focus on cocktail history and education. You can start by viewing the 125 "most important" cocktails, from the Tequila Sunrise to the Singapore Sling, with a detailed story and recipe behind each one. The app also includes a Bottles Guide, so you can read the tasting notes for individual spirits and decide which ones you want to buy to include in your recipes. Other features include the option to save favorite recipes and share them with friends by text or social media.
Notable features:
Free
Support available: Email
The Liquor Cabinet Pros & Cons
What we like
What we don't like
Includes history of each cocktail
Not available on Android
Detailed index of bottles
Limited recipe selection
Highball — Best Social App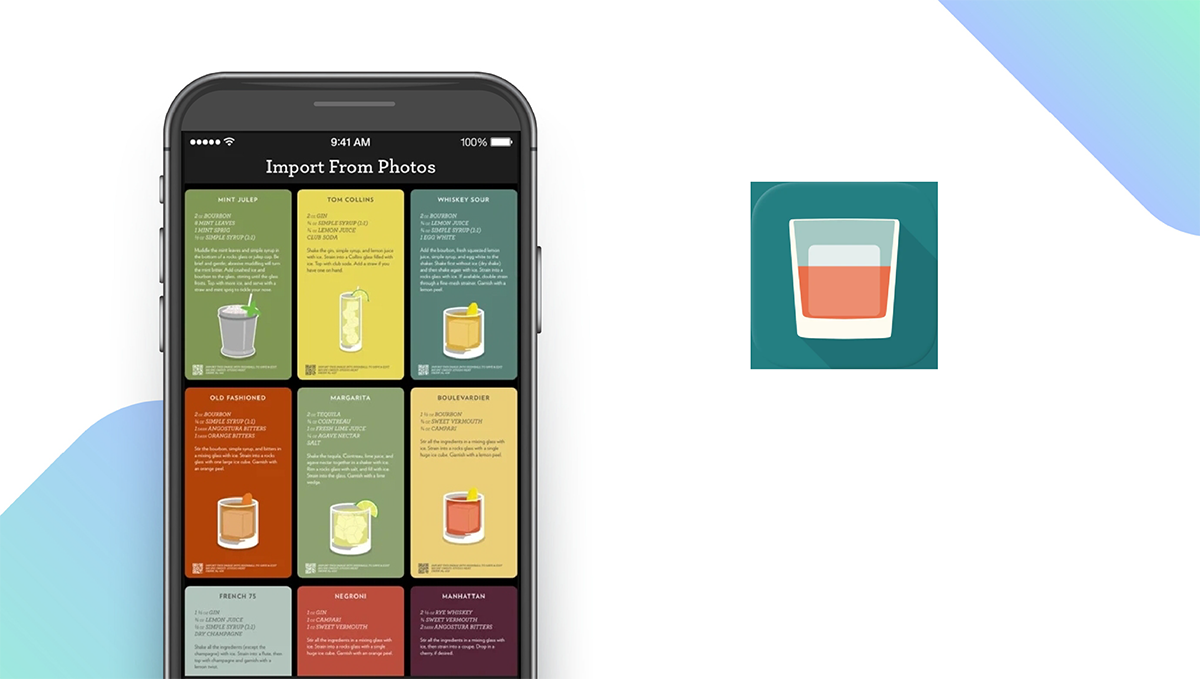 Download: iOS ★★★★★★★★★★
Highball is the best cocktail app for social media users, because you can create and share your own custom cocktail recipes. You can import recipes, customize the ingredients, and add an image, resulting in a classy-looking card you can share with friends or on social media. This app isn't meant to be an encyclopedia though, so you won't find the massive library of recipes that some other apps offer. Still, it's great for cocktail lovers and even for bartenders who want to store their recipes and share them with others in a professional-looking format.
Notable features:
Free
Support available: Email, Phone
Highball Pros & Cons
What we like
What we don't like
Custom cocktail recipes
Not available on Android
Social sharing features
Small recipe database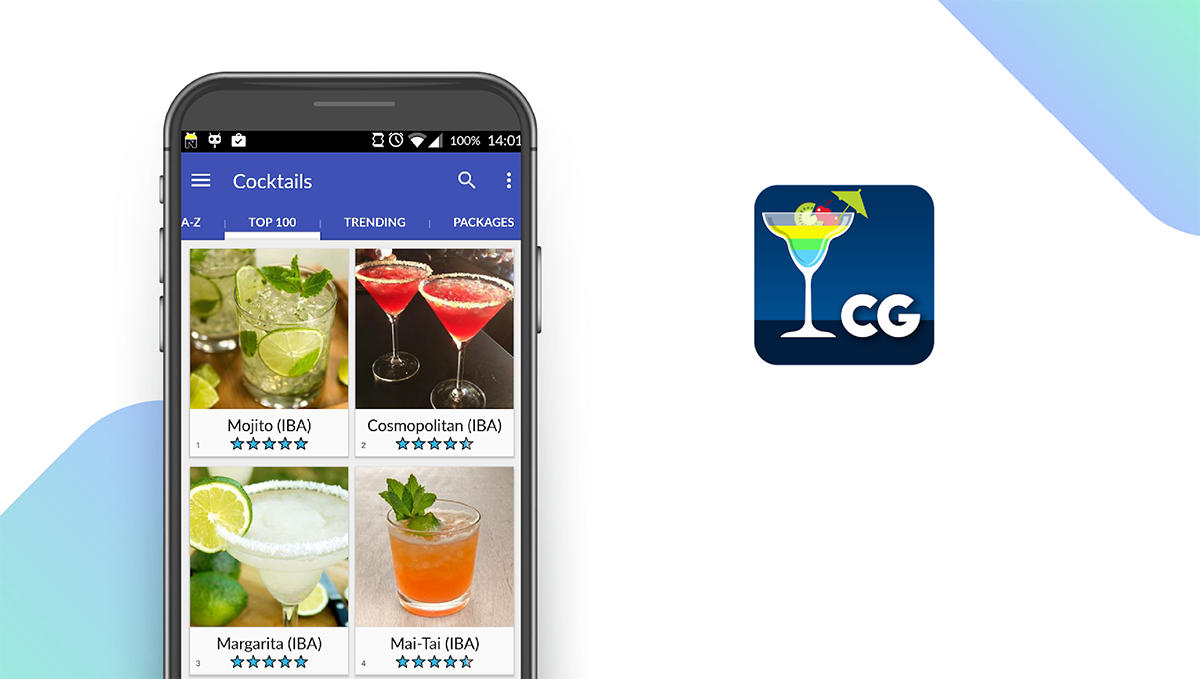 Cocktails Guru is our pick for the best recipe collection, due to its library of over 15,000 recipes in an easy-to-use interface. This app has an activity feed, so you can see when new recipes or pictures are added to the database. You can also switch between tabs such as "glassware" or "garnishes" to learn more about ingredients and pieces of equipment. Ultimately, though, the recipes are what matters, and users can give each one a star rating and leave comments so you know which ones are worth trying and which ones aren't your cup of tea.
Notable features:
Free
Support available: Email
Cocktails Guru Pros & Cons
What we like
What we don't like
User-rated recipes
Not available on iOS
Educational content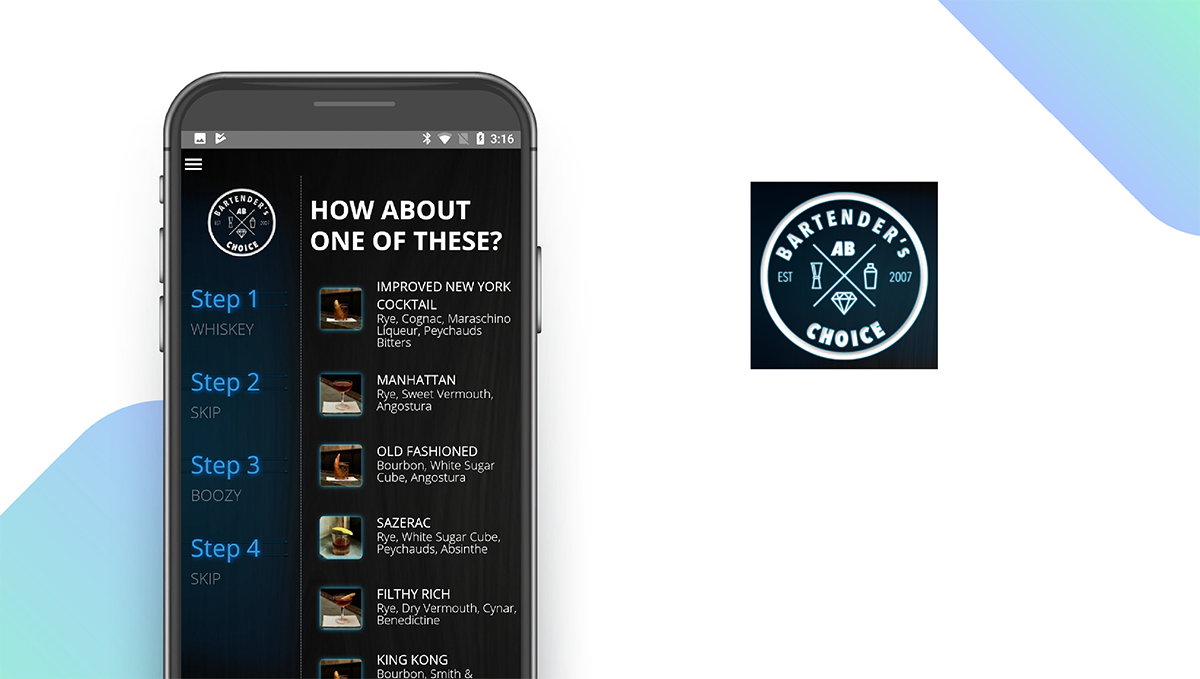 Download: Android ★★★★★★★★★★ | iOS ★★★★★★★★★★
Bartender's Choice is the best app for people who are new to cocktails or just need a little help deciding what to drink. You'll start by answering prompts such as "What's Your Spirit Choice?" and "What's Your Style?" Then, the app will say "How About One of These?" and offer a list of cocktail choices that meet your criteria. Other features include handy tips on "how to swizzle," how to incorporate syrups and juices, and how to use ice. For those who don't need as much guidance, you can still use this app as a cocktail library to store all your favorite recipes.
Notable features:
Free
Support available: Email
Bartender's Choice Pros & Cons
What we like
What we don't like
Personalized drink recommendations
No ingredient filter
Helpful "how-to" lessons
No custom recipes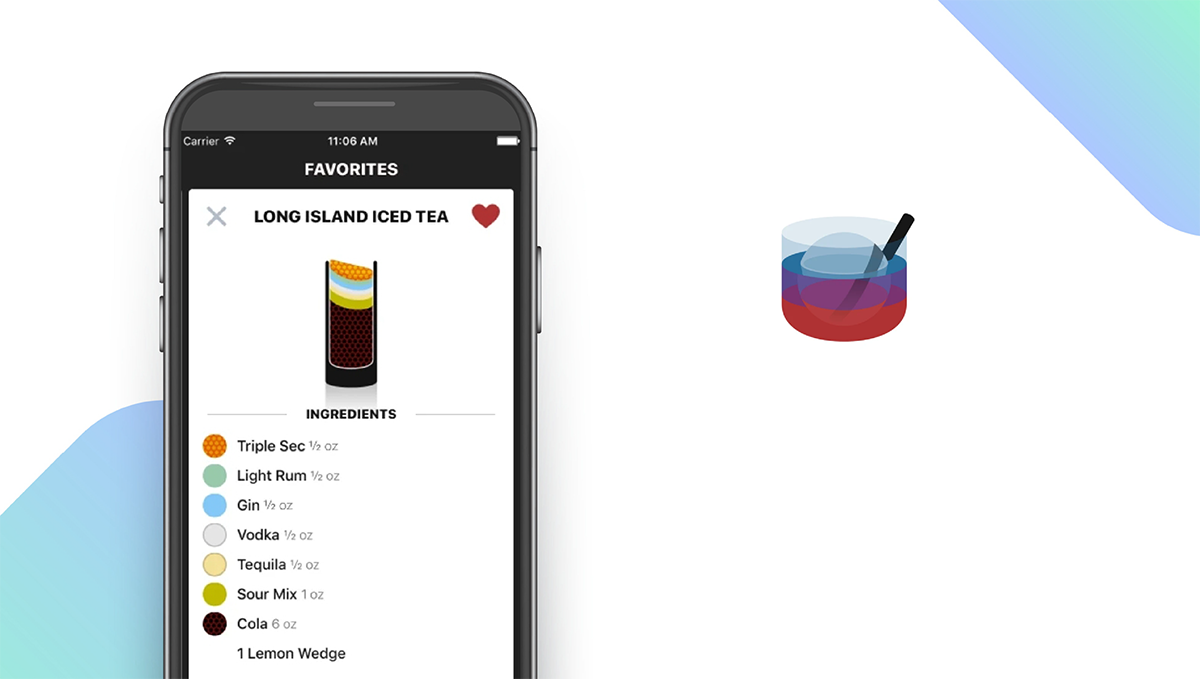 Download: iOS ★★★★★★★★★★
Lush Cocktails focuses on making recipes look pretty, with colorful animations that aren't just fun to look at – they also help you keep your place in the process. You can start by choosing a recipe from the app's alphabetical catalog or selecting the ingredients you have on hand and getting a list of recommendations. Then, you can check off each ingredient as you go, and Lush Cocktails will add it to your "glass," helping you visualize the proportions that go into each drink. You can even switch between metric and imperial measurements to suit your preferences.
Notable features:
Free
Support available: Email
Lush Cocktails Pros & Cons
What we like
What we don't like
Animated drink visualizations
Not available on Android
Alphabetized catalog
Metric and imperial measurements
Personalized recommendations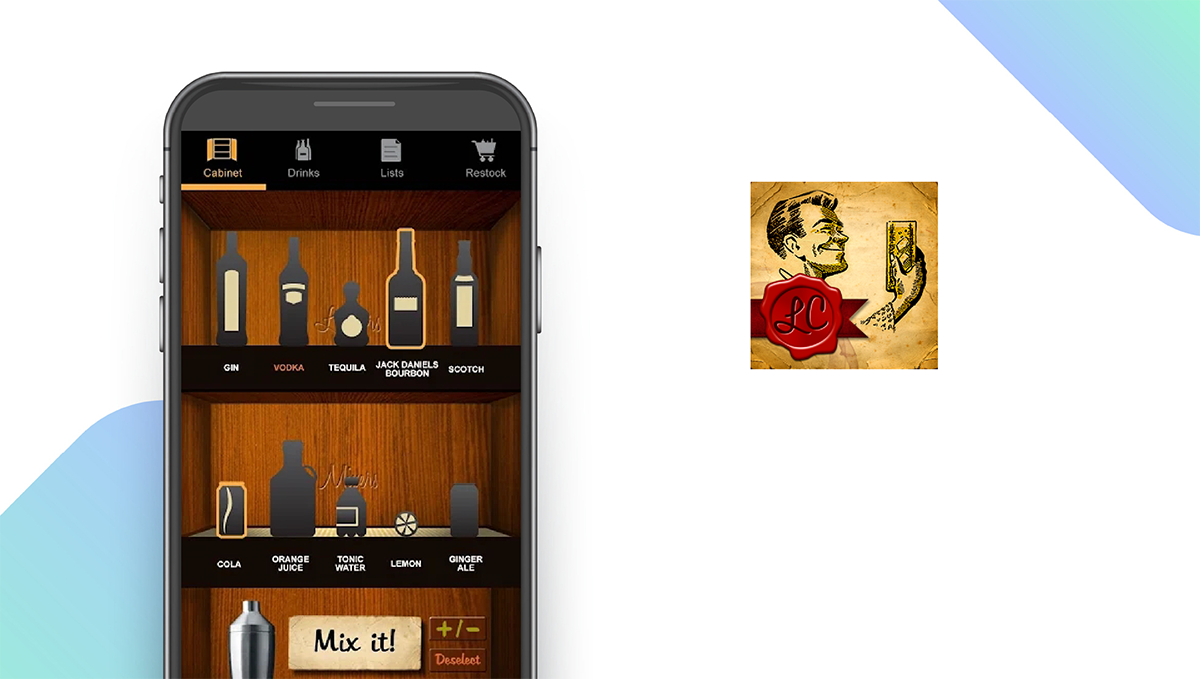 Download: Android ★★★★★★★★★★ | iOS ★★★★★★★★★★
Not to be confused with the other Liquor Cabinet app, this app features an old-school design to take you back to the "Golden Age of Cocktails." You can browse the app's recipe catalog to get inspired, add liquor and mixers to your "cabinet" so you know what you have in stock, and keep a list of items that you need to "Restock" so you're never missing any ingredients. This app is great for users who want to keep track of what's in their home liquor cabinet. You'll see an outline of each bottle in the app and a list of what you can make with those ingredients.
Notable features:
Free
Support available: Email, Contact Form
Liquor Cabinet Pros & Cons
What we like
What we don't like
Engaging user interface
No ingredient filter
Keep track of inventory
No custom recipes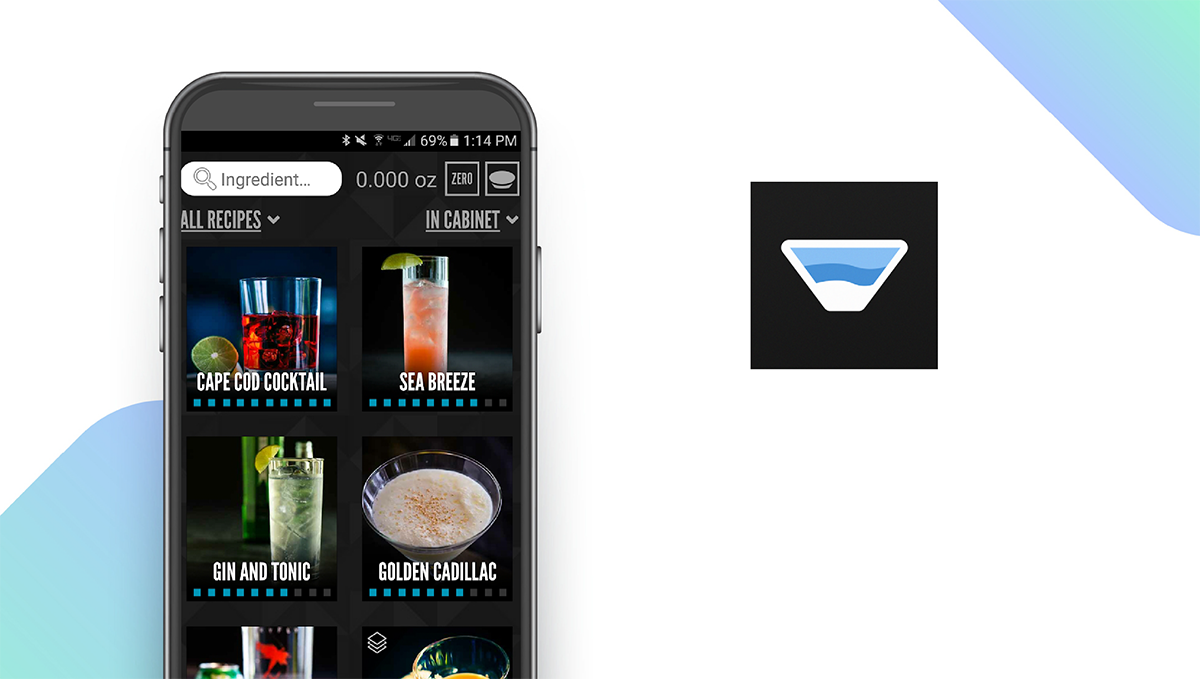 Download: Android ★★★★★★★★★★ | iOS ★★★★★★★★★★
Perfect Drink is the only app on our list that offers a bartending kit to go along with the recipes. For $39.99, you can get a wireless Bluetooth scale and a stainless steel cocktail shaker, while $99.99 gets you a more precise scale with an LCD display. You can use it to mix your drinks by weight instead of measuring out each ingredient separately. The app will "ding" when you pour the right amount of liquid and recalculate the proportions if anything is out of whack. It will also tell you how long to shake or stir your cocktail with a built-in timer. If you don't want to use the scale, you can still use the Perfect Drink app to try out new cocktail recipes.
Notable features:
Free; Perfect Drink 2.0: $39.99; Perfect Drink PRO: $99.99
Support available: Email, FAQs
Perfect Drink Pros & Cons
What we like
What we don't like
Wireless Bluetooth scale
Expensive equipment
Built-in timer
Limited recipe collection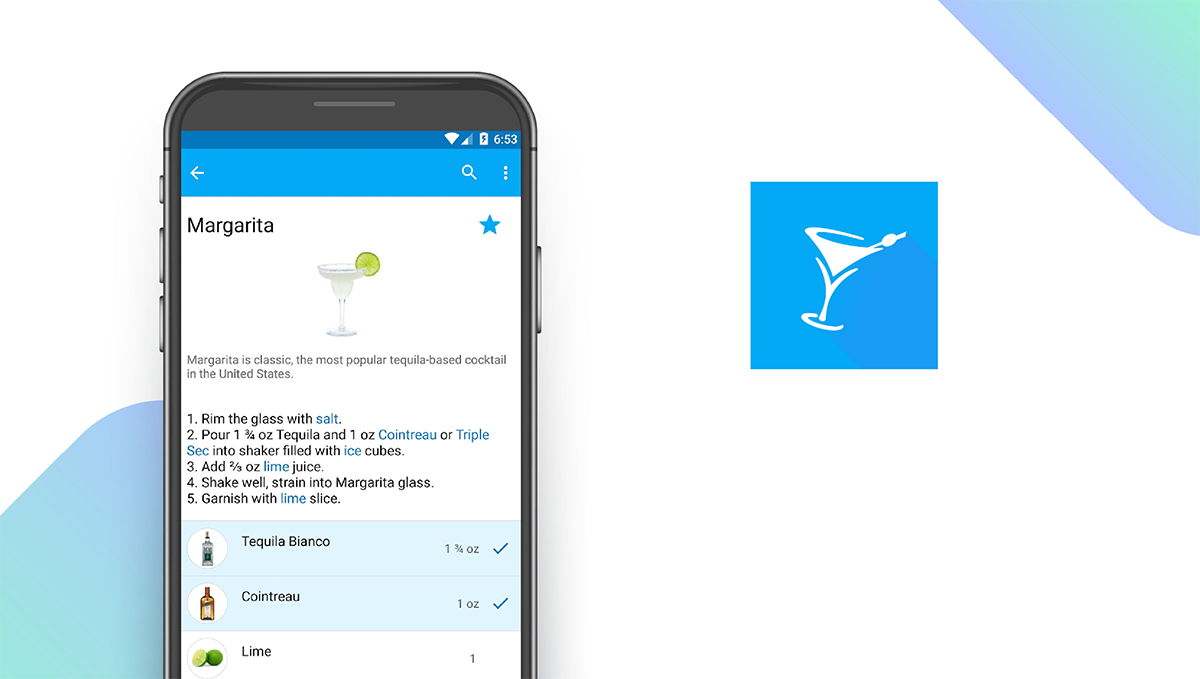 Download: Android ★★★★★★★★★★
My Cocktail Bar makes it easy to come up with a cocktail based on what's in your kitchen. You can simply input your ingredients into the app, and it will give you a list of suggestions that you can make right away. It will also show you a secondary list of drinks you can make with one or two more items, so you know what to add to your list next time you go shopping. My Cocktail Bar is ad-supported, but you can get rid of the ads by upgrading for $2. At the moment, this app only available for Android users.
Notable features:
Free; Premium $2
Support available: Email, FAQs
My Cocktail Bar Pros & Cons
What we like
What we don't like
Curated cocktail suggestions
Free version has ads
"Missing ingredients" list
Not available for iOS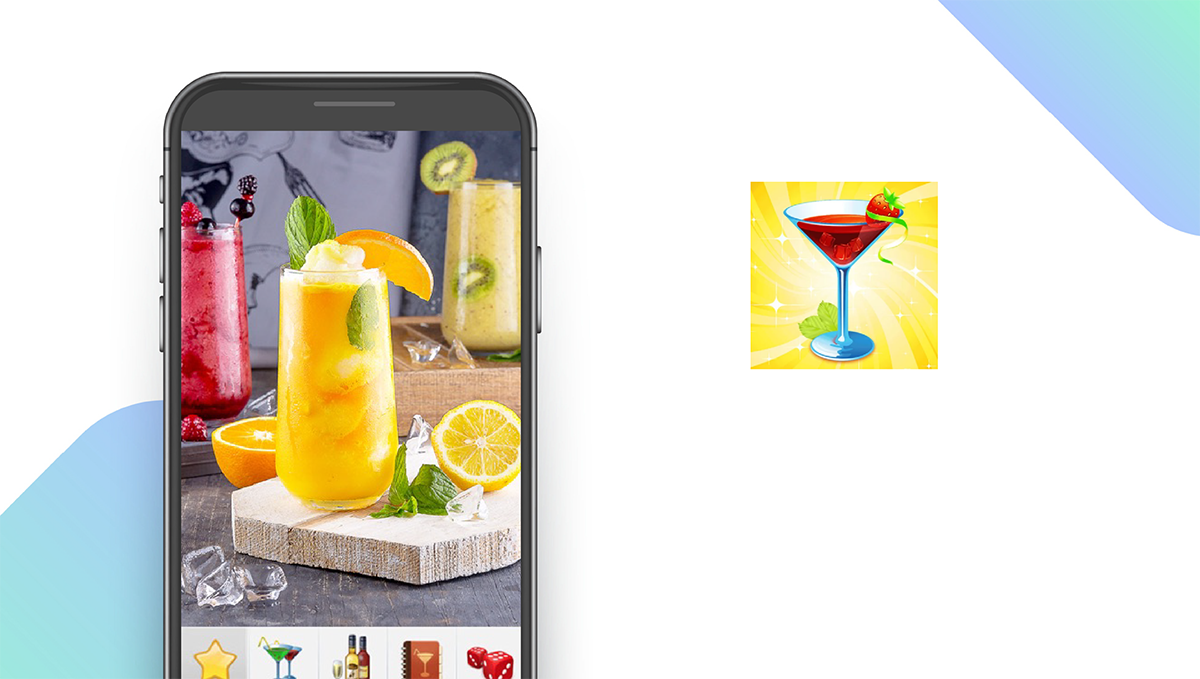 Download: iOS ★★★★★★★★★★
With over 8,500 recipes to choose from, this isn't the largest recipe collection on our list, but it does have the most variety, with options for beer, coffee, tea, and milkshakes in addition to cocktails. There's even a "random" drink feature if you want to take your chances and roll the dice instead of browsing the library. The 8,500+ Drink Recipes app is free to download, but costs $4.99 per month to keep using it after your free trial expires.
Notable features:
Monthly: $4.99/month
Support available: Email, Phone
8,500+ Drink Recipes Pros & Cons
What we like
What we don't like
Includes non-alcoholic drinks
Limited free trial
Random "dice roll" feature
No custom recipes
Cocktail Apps: Features Summary Table
Cocktail Apps Comparison Table
App
Subscription Fees or In-App Purchases
Features
Cocktail Flow — Top Pick
Premium: $4.99/month

✓

Cocktail Recipe Catalog


✓

Ingredient Filter


✓

Custom Recipes


X

Bar/Liquor Store Locator
The Liquor Cabinet — Best Free App
Free

✓

Cocktail Recipe Catalog


X

Ingredient Filter


X

Custom Recipes


X

Bar/Liquor Store Locator
Highball — Best Social App
Free

X

Cocktail Recipe Catalog


X

Ingredient Filter


✓

Custom Recipes


X

Bar/Liquor Store Locator
Cocktails Guru — Best Recipe Collection
Free

✓

Cocktail Recipe Catalog


✓

Ingredient Filter


X

Custom Recipes


X

Bar/Liquor Store Locator
Bartender's Choice — Best Recommendations
Free

✓

Cocktail Recipe Catalog


X

Ingredient Filter


X

Custom Recipes


X

Bar/Liquor Store Locator
Lush Cocktails — Prettiest App
Free

✓

Cocktail Recipe Catalog


✓

Ingredient Filter


X

Custom Recipes


X

Bar/Liquor Store Locator
Liquor Cabinet — Classiest Designs
Free

✓

Cocktail Recipe Catalog


X

Ingredient Filter


X

Custom Recipes


X

Bar/Liquor Store Locator
Perfect Drink — Best Cocktail Kit
Free Perfect Drink 2.0: $39.99
Perfect Drink PRO: $99.99

✓

Cocktail Recipe Catalog


✓

Ingredient Filter


✓

Custom Recipes


X

Bar/Liquor Store Locator
My Cocktail Bar — Best Custom Cocktails
Free Premium: $2

✓

Cocktail Recipe Catalog


✓

Ingredient Filter


✓

Custom Recipes


X

Bar/Liquor Store Locator
8,500+ Drink Recipes — Most Variety
Monthly: $4.99/month

✓

Cocktail Recipe Catalog


✓

Ingredient Filter


X

Custom Recipes


X

Bar/Liquor Store Locator